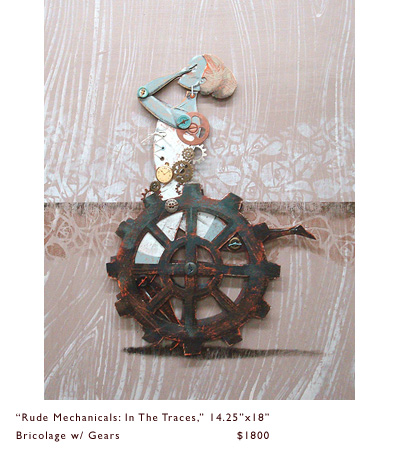 Previous
Auto/Stop
Next
All works &copy PMLaw in their respective years
"Esopus Mystics" series
"What the Tide Brings" series
"A Child's Garden of Entropy" series
"When I Talk About Love" series
The "Rude Mechanicals" explore the intersection of bodily desire and emotionless technology. The period appears to be La Belle Epoque, but the sense of our deepest selves being taken over by the machine is very contemporary. The gears and mechanisms of desire grind slowly but very fine.
This series is largely sold out at this time. Check back in 2015 for new pieces, thanks.
"Ladies-in-Waiting" series
"Teeny Weenies" series
Miscelleaneous pieces



Artist's Statement
My work is paper dolls with deep personal issues. I use humble materials - illustration board, acrylic paint, buttons, wire - to achieve elegant and sophisticated effects. I manipulate the forms and employ pattern, rich color and gesture to explore myths of deep time and current self. The act of sewing the pieces together and adding sewn embellishments puts the work into the realm of the other.
"(S)titches act by forming visible and often ceremonious attachments between materials in order to aggrandize, embellish, assert and layer authority, or swathe an object in textiles as if it were a relic."
"(T)he person wielding the needle and thread has the authority to do so, and effects a change in the world by transforming an object: making it larger, making it contain new elements, causing its increase in dimensionality (usually changing it from a two-dimensional object into a three-dimensional one), forcing a new ritualistic use upon it, and reframing it. Stitching often calls attention to itself as a means of attachment, as if the ritualized form of attachment were being showcased in the resulting object." Sewing as Authority in the Middle Ages by Kathryn M. Rudy, Zeitschrift fur Medien-und Kulturforschung, Vol.6:1 (2015)
The female figure is my usual vehicle for expression. The female hand wields the needle, knife, and paintbrush; and that hand and mind shape the landscape my figures inhabit. The figures themselves are inwardly-focused though their gaze may be disconcertingly direct. Often they chafe at the constraints of mode but who does not also wish for the rustle of silk in their life? The figures stand proud of the backgrounds to achieve a flat/3D effect- turning the frame into a doorway, each piece a portal through which to glimpse private dramas. My work has been favorably compared to that of Joseph Cornell but in fact has been more influenced by the animation work of Jan Svankmajer, the luscious patterns, textures and graphic forms of Eyvind Earle, the eerie dioramas of the Cray Brothers and the anonymous work of my sister Seamstresses of times long past or never existed. I have an abiding interest in semiotics, the symbolism inherent in everyday objects; and an abiding and futile anxiety about entropy.
I work in ongoing series, among them: "Rude Mechanicals" explores how we are driven by the mechanisms of desire; the "Esopus Mystics" and "What the Tide Brings" pieces incorporate natural objects from the Hudson Valley and Cape Cod landscapes respectively; "Portals" are small wooden boxes and drawers that glimpse different worlds; the small "When I Talk About Love" pieces explore various states of the heart.
I have been working in my bricolage style since 2000. My artwork is represented by galleries in Provincetown, MA; Rhinebeck, NY; Nantucket, MA; and in numerous private collections.